For those who have been around for some time, you will know that we would run a member survey every couple of years. This was an important way for us to gain direct feedback from our members anonymously.
It's been a long while since we did one of these, this time I got a little lazy, and did it in a Google Form. I know, pretty flash aye?
Anyway. We're really keen to make sure the website is the best it can be, and we also understand that bringing things to our attention, for some people, is not something they like to do.
So please help us out, be as honest as you can be. If you want to call me a **** please do. You will not offend us, we will not get upset, and we can handle criticism. For most, this will be pretty boring, because you've probably already told us your thoughts, but it's important we get clear data on a few things, so we can look at ways to improve.
I've included a staff rating question, so don't worry, you can even rate us in this one, which is the first time I've done rating in one of these since I actually took over the website.
You can fill it out here: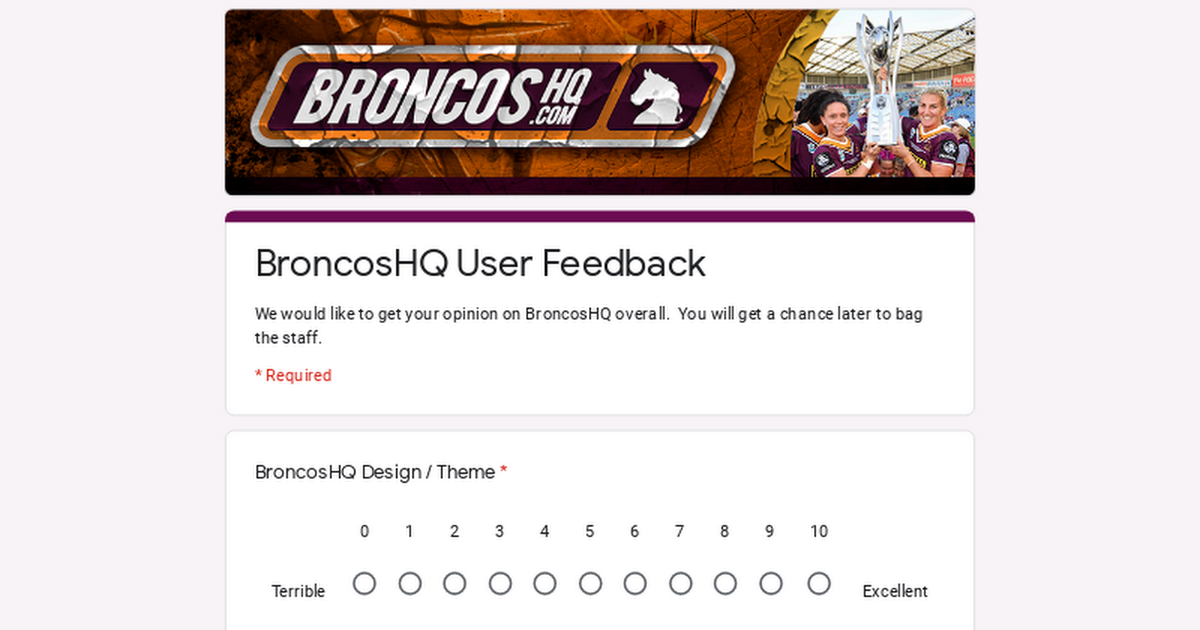 We would like to get your opinion on BroncosHQ overall. You will get a chance later to bag the staff.

forms.gle
​
To say thanks, and because it's all I have, when you see the instructions on how to claim it at the end, please contact me for 2 weeks of ad free being added to your account. Anyone currently subbing, will get an extention.