Kimlo
International Captain
Senior Staff
Apr 26, 2008
34,503
35,423
Source:
ABC
by
Nick Campton
Posted 23h ago
Payne Haas has seen the best of State of Origin football up close and personal several times before but the game's harshest arena is yet to see the very best of the Broncos enforcer – until now. Next Wednesday, Haas will play his 10th game for his state, the same number of NRL matches he'd played when he was first pitched into interstate football four years ago.
Back then, even at 19 and as the most inexperienced Origin debutant of the NRL era, he was well on the way to becoming one of the league's best props. Now, he's saddling up for another series as arguably the best player in the sport.
"It was crazy, that debut, I'd only played 10 NRL games and I feel a lot more mature now. The speed of the game is so fast and you can't take your mind off it for one second, that's what I've learned," Haas said.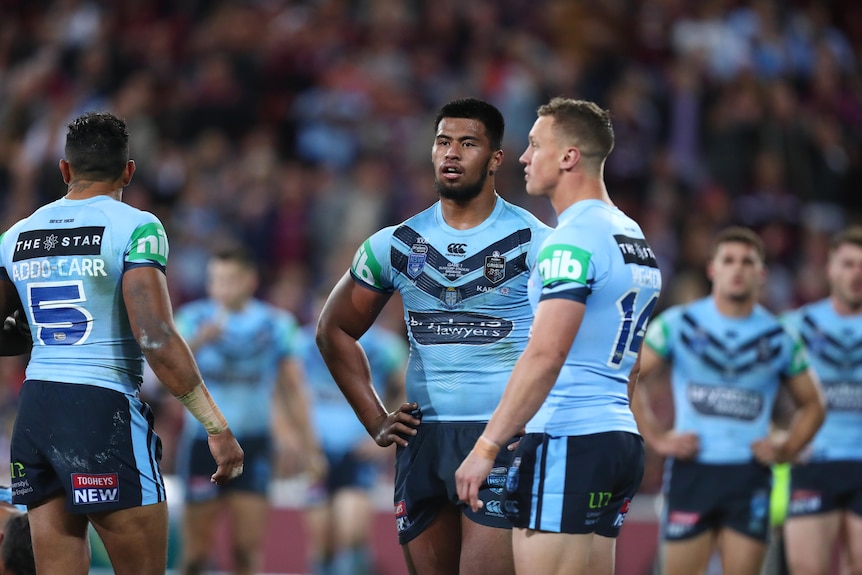 Haas had played just 10 NRL matches when he was pitched into State of Origin football. (Getty Images: Chris Hyde)
"I do feel comfortable [being here]. It's a different arena to normal footy but I feel comfortable. It's my 10th game coming up and it's come pretty quickly, I was a baby back then and I've really grown up and matured."
Haas acquitted himself well on debut, running for 66 metres and making 31 tackles in 39 minutes, and has performed strongly in the sky blue jersey since. But he is yet to dominate an Origin match the way he dominates each and every week for the Broncos where his play, which has always been strong, has transformed into something terrifying.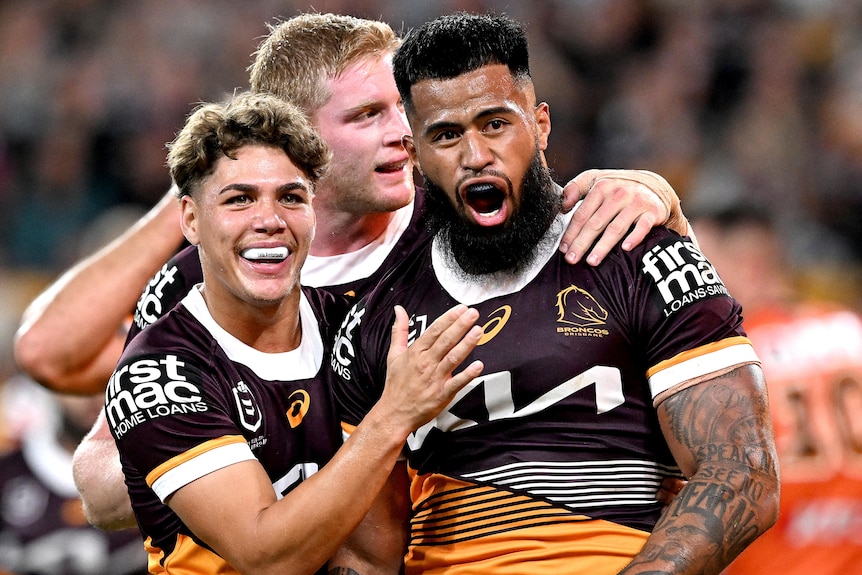 Haas has taken his play to a new level in 2023.(Getty Images: Bradley Kanaris)
He is averaging a career-high 190 metres per game, the most of any forward in the league by 20 metres. He leads the competition in post-contact metres, he's second for offloads and he's on track to top his career-high for tackle busts in a season.
It's why Brisbane has rocketed into premiership contention and why Haas is leading the Dally M count and is on track to be the first prop ever to win the league's player of the year honours. But numbers only tell part of the story.
Haas could always fill a stat sheet and look good doing it. This year he is breaking things, especially in his second stint on the field when he returns from the bench, gets the ball a pass or two wide of the ruck, isolates smaller defenders and tramples them like he's Godzilla and they are the Tokyo skyline.
It's proof he has become far more than just a big unit who runs the ball. With experience comes maturity and with that comes wisdom, or the front-row forward version of it at least. "I'm a better player than what I have been because I've matured and been a bit smarter with the way I go about things," Haas said.
"I'm trying to be smarter with what I do. Sometimes I get the ball and all I want to do is crash into four blokes as big as me but that's not always the way. If I can get wider, create some momentum for the team, I'll try and do that. "I'm viewing the game a bit differently, being a prop is pretty simple – you can just run it straight, but sometimes you need to have something a bit different."
Haas will also be looking to make up for a little bit of lost time with New South Wales. He played two of the best games of his Origin career in the opening two clashes last season before missing the decider with a shoulder injury.
"It's always a privilege and an honour to be here. I was stuck watching last year, so it's good to be back," Haas said. "I can't really watch footy, I get really stressed – I got stressed in that game and when my brother [Kleese] plays for the Titans I get more stressed than I do in my games."
In those two games Haas was already one of the best forwards in rugby league but now he's perfected the art of rugby league brutalism he has a fair claim to being the best overall player, a claim that will be put to the test starting next Wednesday at Adelaide Oval.
It's a big test, but it's one Haas can not just pass but excel at. There are others who can do what he does – some of them will be wearing Maroon and doing their best to stop him — but nobody does it as well for as long. He has always had the physical and mental qualities to be one of rugby league's true greats and Origin is the forge in which those greats hammer their legacy into reality.
Haas has proven he can stand the heat. It's time to turn it up.