International Captain
Staff
Stats Insider: Anthony Milford's poor start continues trend of declining running game
March 9, 2018
ANTHONY Milford has been a lightning rod for criticism over the last 12 months and a disappointing first up performance against the Dragons has Matthew Johns tipping against the Broncos to make the top eight.
Milford's inability to transition from a lethal ballrunner to a game managing playmaker has got the jungle drums beating, with a dominant half seemingly missing from the Broncos' roster.
That observation was put strongly into perspective by Ben Hunt's outstanding debut for St George Illawarra in a thumping Round 1 victory.
And it could be the failure of Wayne Bennett to identify the club's next great halfback that hurts Milford, with Fox Sports Lab identifying a change in his game since he dominated the 2015 grand final and was unlucky not to win the Clive Churchill Medal.
Since bursting onto the scene as a teenage fullback for the Raiders, it's always been Milford's running game that has electrified the arena.
However, the pressure that comes with a million dollar contract dictates that a half is more than just a flashy line breaker, they have to have their fingerprints all over the game plan.
Which might explain the trend that sees Milford running the ball less every season since 2015.
That career-best year was built on more than 10 runs per game. Last season he was back to seven-and-a-half and against the Dragons on Thursday night he only ran the ball four times — none of those runs put any stress on St George Illawarra's defensive line.
With less running has come less tries (seven last year compared to 13 in 2015), his linebreaks have halved (10 last year compared to 19 in 2015) and his tackle busts have reduced.
Speaking on
The Late Show with Matty Johns
,
the host was scathing of Milford's Round 1 showing
, pointing out that No.7 Kodi Nikorima's game was doing him no favours.
To turn things around it might take something as simple as a return to what Milford does best, with former Broncos star Jharal Yow Yeh calling on both halves to be more direct and aggressive.
"There's a couple of things, I think Kodi Nikorima gelling with Anthony Milford," Yow Yeh told Fox Sports News on Friday morning.
"I think they need to be a bit more aggressive and assertive in the way they talk on the field."
Allowing Milford to go back to his instinctive running game would require someone else to step up as the organiser, with Darius Boyd's influence at fullback clearly vital to Brisbane's attack.
However, according to Johns, the cracks may be too large to paper over, with the lack of a natural playmaker endangering their finals hopes.
"They don't have a dominant half," Johns said.
"The missing of Ash Taylor is disastrous for that club because Milford's a runner and Nikorima is a clever player, he's a skilful player, but he's not a dominant half.
" ... Every great side has a great No.7, a seven or a six that can own the contest and for mine the Broncos haven't got that.
"I'm looking at the Broncos and I say, where's the star power? Jack Bird didn't play tonight and Darius Boyd is at the back but who is their Thurston? Who is their Cameron Smith? Who's going to make it happen?
"I watched their attack and there was no variation in their attack from the beginning to the end. It was the same shape all the time."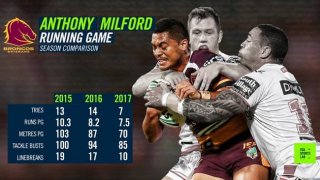 Source:
Fox Sports