By now you all know Ben Ikin has formally applied to be the next CEO of the Broncos. You know who he is. You know who his father-in-law is. And you probably know they're not currently on speaking terms. Here's what he has to say for himself:

"I'm confident I can do the job but there will be some very impressive resumes that come in. While I'd love to get the job, more than anything I want to see someone land in the role that can get the Broncos back to their best. I don't expect or want an easy path. I wanted to be tested against other quality candidates and will be in there with a million other dreamers. I just want the Broncos to end up with the best candidate. I hope that's me, but if it's not I hope they get someone that can do a really good job."

"I've got a commercial background in sales and marketing and in the construction industry in senior commercial roles. I was GM of commercial at the Gold Coast Titans so I know and understand the commercial drivers of an NRL club. I understand as a publicly listed company, there are going to be some gaps in my skill set, but I'm confident from an industry perspective I know and understand both sides of the business extremely well. From the moment I walked through the doors in Brisbane, and got a feel for the culture and how they went about their business, I knew I was part of something special. That's what's defined the club for a long period of time. "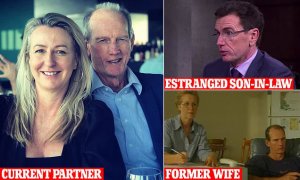 The Broncos: one big happy family

"I wasn't around to see it but you hear the stories about the standards 'Porky' (Paul) Morgan and the founders expected of the place and how Wayne Bennett built that football program. That's still in the walls there. I know they're struggling but this is a club that's famous around the world."

"The truth of it is until you get inside the four walls and have a really close look at how the business is operating it's hard to make a really strong assessment. Talking as the host of a magazine show is very different to making an assessment as the potential CEO. You go in, have a look around, talk to everyone who works in the football department, including the coach, ask tough questions and have tough conversations. Only then can you make a real judgement."

"What you thought was the coach's problem might actually be an issue somewhere else in that system."

You won't need to worry about that one.

McHunt